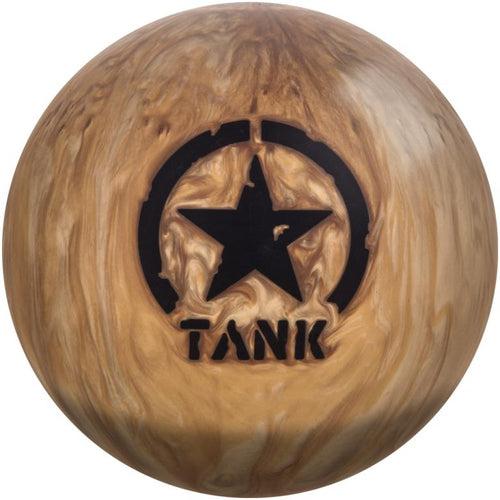 Motiv Desert Tank Bowling Ball
Sold out
Original price
$126.95
-
Original price
$126.95
The Desert Tank is the newest addition to the Motiv arsenal in the war against drier lane conditions. This ball features an advancement in their Microcell Polymer formulation, making this ball a pearlized version of the Frixion+ cover used on the Tank Blitz. The Desert Tank pairs this new shell with the symmetrical Flux core shape from the Thrill bowling balls.
This core has a very high RG and a very low differential, helping the Desert Tank get down the lane and blend out its movement off the dry. It comes out of the box at a 2000 grit sanded finish, which helps keep it from sliding too far down the lane. The pearl Desert Tank is yet another incredible ball featuring new Microcell Polymer technology, which provides the motion of urethane with the continuation of reactive resin.
Featuring a pearl version of the Frixon+ Microcell Polymer cover stock used on the Tank Blitz, the Desert Tank maneuvers powerfully in lighter oil volumes.  And to help provide an even smoother motion than the Covert Tank, the low differential Flux core design has been deployed to tame track flare. The cover, core, and the 2000 Grit LSS finish all come together on the Desert Tank to provide a weapon that is dialed in for a controllable motion on high friction lane conditions.  Speed-dominant bowlers will really appreciate the performance attributes of this release.
Specifications
Color: Gold Pearl
Coverstock: Frixion+™ Pearl Microcell Polymer
Weight Block: Flux
Factory Finish: 2000 Grit LSS
Flare Potential: 2+"
Radius of Gyration (RG): 16lbs - 2.57; 15lbs - 2.57; 14lbs - 2.57
Differential (Diff): 16lbs - 0.013; 15lbs - 0.015; 14lbs - 0.018
Intermediate Differential (Diff): N/A
Fragrance: N/A