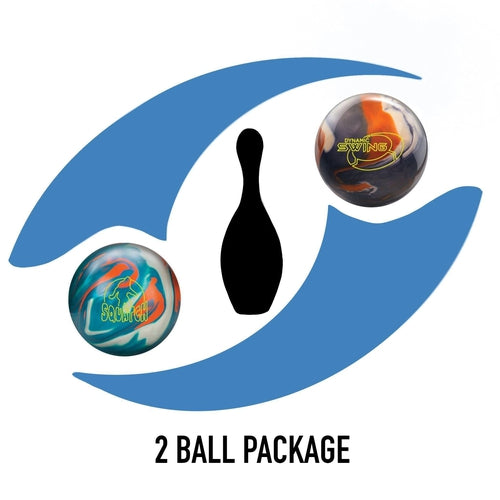 Radical Squatch Hybrid & Columbia 300 Dynamic Swing 2 Ball Package Bowling Ball
Sold out
Original price
$199.95
-
Original price
$199.95
Radical Squatch Hybrid & Columbia 300 Dynamic Swing 2 Ball Package 16 lbs Only
In this 2 ball package, you will receive (1) Radical Squatch Hybrid and (1) Columbia 300 Dynamic Swing Bowling Balls.
 
Description:

Radical Squatch Hybrid Bowling Ball

URD January 16, 2020
CORE Symmetric (DynamiCore)
Coverstock Ai-39 Hybrid
The Squatch Hybrid adds a new motion to the Squatch line up, more hook than the original Squatch, and more flip than the Squatch Solid. The Squatch Hybrid features the very aggressive Ai-39 Solid coverstock combined with the original Ai-39 Pearl. This cover combination places the Squatch Hybridmotion right between the original and the solid. The colors of the Squatch Hybrid, in my opinion, are even more appealing than the colors of the original Squatch, which, as we all know, helped make the first Squatch a resounding success. The Squatch Hybrid also features incredible DynamiCore technology. The super-popular Squatch core, DynamiCore technology, Ai-39 Hybrid coverstock, and the sexy color combination makes this all-time Hide and go seek champion of the world a must-have for every league or tournament bag.

Weights: 12-16 pounds
Color: Teal / Platinum / Orange
Coverstock: Ai39 Hybrid
Cover Type: Hybrid Reactive
Core: Symmetric with DyaniCore
RG 15#: 2.482
Diff 15#: 0.054
Factory Finish: 500, 1000,
Crown Factory Compound
______________________________________
Columbia 300 Dynamic Swing Bowling Ball 
Release date of 10/15/20
Columbia 300 is introducing the Dynamic Swing Hybrid by bringing back a modified version of the Full Swing core. They paired this popular core with the ERT Hybrid coverstock with a dull finish to dominate medium to heavy oil conditions and provide a strong midlane and backend reaction.
Color: Black/Caramel/White
All colors do vary somewhat from the picture shown
Core: Modified Full Swing
Coverstock: ERT Hybrid
Finish: 500, 2000 Siaair Micro Pad
Reaction: Strong midlane and backend
RG: 2.482 (15# ball)
Differential: 0.047 (15# ball)
Hook Potential: High
Length: Medium
Recommended Lane Condition: Medium to Heavy oil
Manufacturer's Warranty: 2 Years from Purchase Date
A few tiny pit holes in the cover stock of the ball are normal